Our 5-day Newcastle Startup Week festival will officially begin at 1pm on Monday 15th May 2017 with a celebration of local business success stories of the past, present and future at Robert Stephenson & Co's recently refurbished BOILER SHOP venue, located behind Central Station.
As the world's first purpose-built locomotive factory, which powered the railway industry and industrial revolution in the early 19th century, it's the perfect venue to showcase the new entrepreneurial revolution taking place right now on Tyneside and the wider North East.
With room for over 400 people we'd love to see as many of our 450+ delegates there as possible for a celebration of local success stories and to hear from our amazing speakers which include New York-based artist, author and storyteller Amber Rae and Brad Burton, the UK's no.1 motivational speaker.
Please note: The event starts at 1pm prompt but registration is from 12.30pm so we'd really appreciate it if you could arrive no later than 12.45pm to collect your wristband. If you've not yet bought a 5-day ticket/wristband for just £60, please book one now by clicking on the Eventbrite button below:
And if you've not been to The Boiler Shop before, check out our behind the scenes video which we filmed way back in January by clicking on the screenshot below…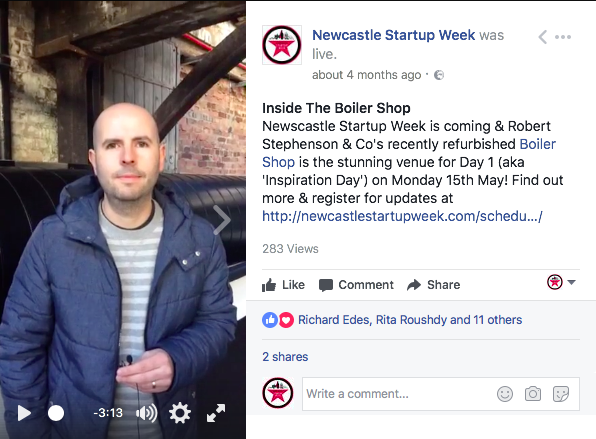 After our daytime event is over, we'd love you to join us for at least one free drink at the luxurious 'Bonbar' (part of The Assembly Rooms) from 6.30pm until late.
You also have the option of attending a private screening of the film 'Joy' featuring Jennifer Lawrence at the Tyneside Cinema thanks to our sponsors Muckle which will be introduced by a short conversation between film blogger Andrew Jamieson and Ami Davies, the Newcastle-based entrepreneur and inventor of the excellent new 'My Little Explorer' child safety app and tracking device.
If you'd like to stop overnight, check out our special offers on hotel rooms on our 'Special Offers' page.