'Scaleup Summit'
Thursday 16th May 2019 @ Urban Sciences Building, Newcastle Helix (8.30am-6pm)
Building on the success of our 5-day 'Newcastle Startup Week' festival in May 2017, we ran a 1-day 'Newcastle Scaleup Summit' for 190+ people at the Live Theatre in November 2017 to help people learn how to take their business to the next level.
Instead of running Scaleup Summit again in 2018, we've decided to run it as part of Newcastle Startup Week 2019 to provide even more impact & focus on growing & scaling businesses in the North East of England.
Newcastle Scaleup Summit 2019 will cover the following themes:
1. Adopting a 'Growth Mindset' that will help you think much bigger
2. Improving your sales, marketing & PR of existing products or services
3. Innovating, developing & launching new products or services
4. Improving processes to save time & money to invest back into your business
5. Building teams & finding people with the right skills & experience to grow your business
6. Learning how to forge & maintain partnerships with bigger businesses
7. Selling globally & expanding internationally
Schedule
Registration / Arrivals (8.30am-9am)
Session 1 (9am-10.48am)
Welcome from Matt Bratton (Senior Investment Manager, Invest Newcastle)
Colin Bell (Business Growth Director, North East Local Enterprise Partnership)
'What are the barriers to scaling?' panel hosted by Scaleup North East feat. Gillian Marshall (Chief Executive, Entrepreneurs Forum), Andrew Esson (Scaleup Partner, RTC North), Helen Lee (Mentoring and Brokerage Manager, NELEP) & Angelina Bell (Scaleup Partner, RTC North)
Marketing Excellence & Automation by Geoff Phillips (Founder, Canvas Marketing & ex-Marketing Director, Sage)
Generating & Converting Leads for Business Growth by Karen Weech (Managing Director, MostSensational)
Scaling your Business- Lessons in Growth by Ian Mapplebeck (Managing Director, S E E Consulting) & Mignon Mapplebeck (Director of Technology, S E E Consulting)
Break (10.31am-10.46am)
Session 2 (10.46am-12.31pm)
Lunch (12.31pm-1.31pm)
Session 3 (1.31pm-3.43pm)
Break (3.43pm-3.58pm)
Session 4 (3.58pm-6.15pm)
Want to attend?
If you'd like to attend Newcastle Scaleup Summit and/or any of the other Newcastle Startup Week events taking place between 13-17 May 2019, you must book a ticket in advance by clicking / tapping on the button below:

After Parties / Networking Events
6.30pm-7.30pm: Special VIP Fireside Chat @ Northern Counties Club hosted by Asian Business Connexions. Please note that to attend this VIP chat, you need to have registered separately for it. Spaces are now full.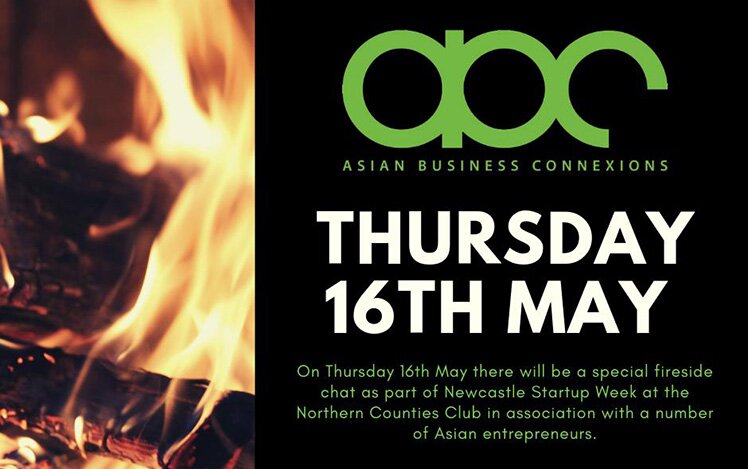 7pm-Midnight: Closing Party / Networking Event @ STACK Newcastle, Pilgrim Street.
This after party / networking event is kindly sponsored by BMC Recruitment Group